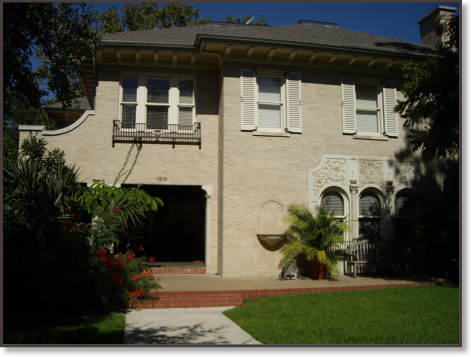 Stylistic influence(s)
:
Spanish Eclectic
Architect/Builder
: Page Brothers
Historic Use
: Residence
Current Use
: Residence
Historical designations
:
City of Austin Historic Landmark
Building History
A previous house, the HUTCHINGS-SPARKS House (1891/1927) at 1510 West Avenue was razed in 1927. Effie Dignan (widow), the daughter of Frank Brown, is listed in the home of Henry Hutchings at 1506 West Avenue, at the corner of West Avenue, in the 1889-90 city directory. In 1891-92, Effie Dignan is listed at 1506 West and Hutchings is listed at 1510 West, corner of 16th. In the 1895-96 city directory, Hutchings is at 1510 West; Dignan is at 1502 West. Effie Dignan and her father Frank Brown both sold their lots in October of 1900. By 1905, there is a listing for 1500 and 1502 West, but no others are listed in the 1500 block; the William Caswell House at 1502 was built in 1904. Hutchings is still at 1510 West Ave in 1903-04, but the address is not listed in 1905.
The only record the city has is a water service permit to Sam Sparks in 1928 – it does not indicate a previous structure, but water service permits only go back to the early 1920s.
Significant Persons Associated with Building
1891-1905:
Henry Hutchings
(1865-1939), soldier, publisher, and politician, was born in Somersetshire, England and brought to America by his parents in 1866. He became a private in the Iowa National Guard in 1882 and, after moving to Texas, joined the Texas National Guard in 1885. In 1890 he founded and published the Austin Evening News and, for a time, published the Austin Statesman. He was adjutant general of Texas from 1911 to 1917, when he resigned to organize the Seventy-first Infantry Brigade; he commanded this brigade in the United States Army overseas during World War I. He was Secretary of State under Governor Pat M. Neff in 1925. He served again as adjutant general from 1933-35. Hutchings married Wittie Brown, daughter of Frank Brown, in 1886. They had seven children. In 1935, he married Mrs. Hallie White of Dallas. He died at his home in Austin in 1939, survived by his widow and six children. At the time of his death he was executive officer in charge of the narcotics division of the Texas Department of Public Safety.
1910-1933:
Sam Sparks
(1873-1933). In 1912 Sparks was the president of Texas Trust Company and vice-president of the Business Men's Accident Association. In 1929 he is listed as the president of Texas Bank & Trust Company and as president of Woodward Body Works; William (adopted after the death of infant Sam) Sparks is also listed at the address in 1929. In 1932-33, Sparks is vice president and chairman of the board of Republic Bank & Trust Company and president of Woodward Manufacturing Company as well as vice president of Julius Seaholm Memorials.
1939- circa 1945:
Judge Sam Sparks
, U.S. District Judge, appointed by President Bush. Judge Sparks' great-grandfather and his grandfather were also named Sam Sparks; the former was sheriff of Bell County, Texas, and the latter succeeded him in 1897. Judge Sam Sparks became president of the Texas Sheriff's Association in 1903 and the Texas state treasurer in 1906.