Westhill Carriage House - 1855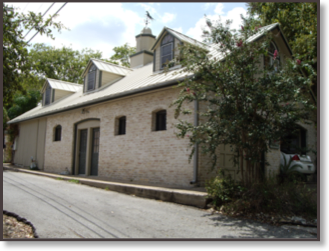 Stylistic influence(s)
:
Early Classical Revival
Architect/Builder
: Probably
Abner Cook
Historic Use
: Carriage House for Westhill at 1703 West Avenue
Current Use
: Office
Historical designations
:
City of Austin Historic Landmark
Building History
Building was a carriage house for the Chandler Shelley House, aka Westhill. The property is first listed as an individual address in the 1952 City Directory, unoccupied between 1952 and 1965. It was purchased in 1992 for use as a law office. See WestHill file for history of the estate.
Significant Persons Associated with Building
See Westhill City of Austin Historic Landmark nomination for full details.