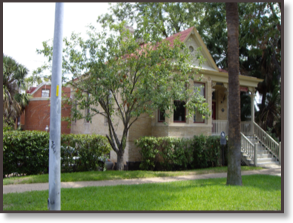 Stylistic influence(s)
:
Victorian
Architect/Builder
: Jacob Larmour
Historic Use
: Residence
Current Use
: Residence
Historical designations
:
City of Austin Historic Landmark
Building History
The Larmour House was moved from 1909 Whitis, with assistance from the Heritage Society, in 1979 for use as an office. Built in 1875 by prominent architect
Jacob Larmour
, the brick Victorian cottage served as his residence until his death in 1901. Larmour's residences included that of lumberman
Joseph Nalle
at 1216 Sixth Street (c1889, razed 1939).
Born in New Jersey, Larmour practiced architecture in New York City until 1853. After service in the Civil War and in 1871 settled his wife and two children in Austin. Larmour designed many public and private buildings throughout Austin and Texas, including the 1875 Second Empire Style Travis County Courthouse (razed 1964) at Congress and 11th and several extant buildings in the 900 block of Congress. Governor Roberts named him state architect in 1879.
Significant Persons Associated with Building
Jacob Larmour