Multi-Use High-Density Zoning in Judges Hill
All of the SF-3 households in Judges Hill will be impacted by the City's rezoning of Judges Hill land from single-family to much greater density and multi-use in its recently released "CodeNEXT" zoning plan – no SF-3 remains. Learn more about the proposed zoning changes that would allow a developer to shoehorn 4-5 units onto one lot. CodeNext allows multiple dwelling units and uses (office, retail, lodging) on on a single lot, at the developer's discretion, with limited recourse for neighbors.
• Change in Property Values

• Change in Neighborhood Character

• Increased Density and Use Permitted (and related issues of noise, traffic, and street parking)
No Parcel remains Single Family Residence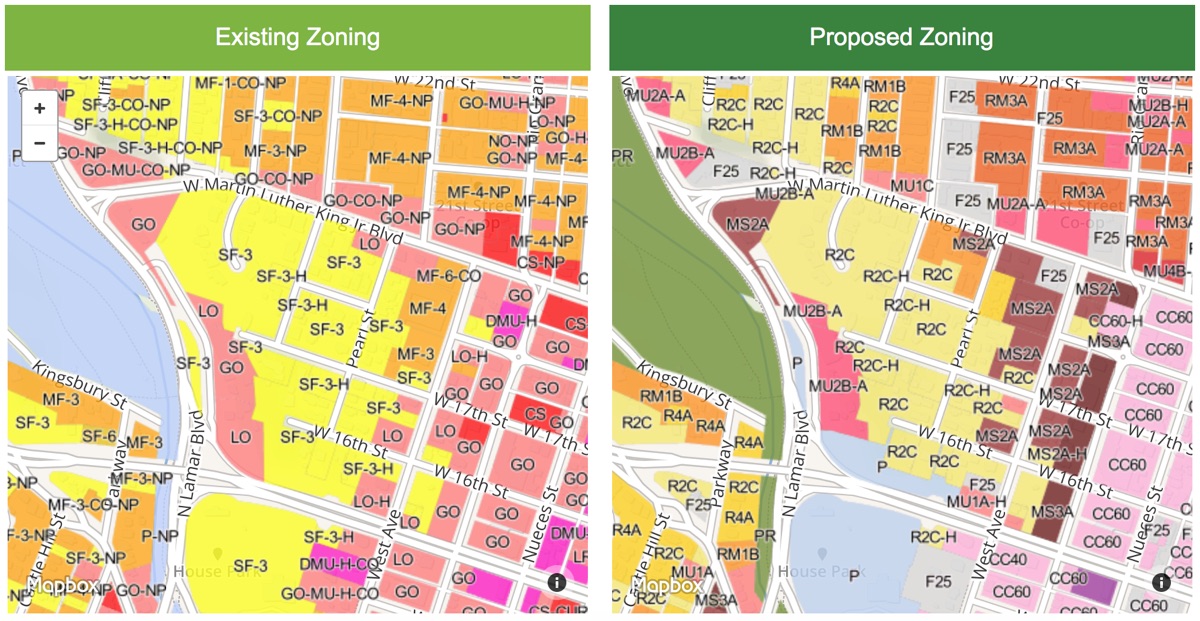 JHNA previously voted to support the Downtown Austin Plan
The Downtown Austin Plan (DAP) should be incorporated into CodeNext as it achieves a balanced approach supportive of greater density and use while preserving the character of Judges Hill through agreed upon setbacks, gradual height step ups and massing.
Pre-Mapping Judges Hill Neighborhood Association Resolution on CodeNEXT
Whereas the Downtown Austin Plan (DAP) and its component Downtown District Plans, developed over four years with broad stakeholder input and generous taxpayer support and approved in November of 2011, produced a consensus that took guidance from the following plan statements:
"The DAP is the Downtown's Neighborhood Plan"

"The DAP is the result of a three-year dialogue with the general public and the Downtown community and stakeholders."

"The character of Downtown ranges from the skyscrapers of Congress Avenue to the single-family neighborhood of Judges Hill.

"Mixed Use: An appropriate mix of residential and non-residential uses should be allowed in all parts of Downtown, except for Judges Hill, which should generally be preserved as a single-family residential neighborhood."

"Downtown's historic fabric is at risk of being demolished.

"Historic preservation is important if Downtown is to continue to develop in a way that is authentically and uniquely Austin"

"Compatibility Zones are proposed, each with specific height standards aimed at providing an appropriate scale transition to the Judges Hill and Old West Austin Neighborhoods"
Be it resolved that the Judges Hill Neighborhood Association asks that Commissioners and the Mayor, Mayor Pro Tem and City Council honor the DAP and its components in tailoring and approving CodeNEXT with regard to the JHD and the adjacent two blocks of the Northwest District and the University Neighborhood Overlay.
Feb 27, 2017
Guide To Current (2016) Zoning

The City of Austin Guide to zoning
(PDF) - This is the guide to zoning in place today. Use this guide to understand what your current zoning allows.
THE FOLLOWING IS INFORMATION FROM TARRYTOWN EAST
— Reprinted with permission from Mark Dewey
The City of Austin is pushing through a new zoning code, called CodeNEXT, that will change the value of your property and the character of your neighborhood.
I learned a few things in the last few weeks that I would like to share with my neighbors, followed by a ONE, TWO, THREE guide to how you can find out what's planned for your home, street, and neighborhood, and how you can make your voice heard in this process.
OVERVIEW
1. The City is pushing this very hard. They hired a Berkeley, California consulting firm to develop the CodeNEXT plan, in consultation with the city planning department. It will be the new zoning code for decades to come.
2. A main goal of CodeNEXT is to create affordable housing for the continuing influx of residents into Austin. They'll attempt to do this by significantly increasing density in residential neighborhoods. West Austin has been targeted for more housing.
3. There are no resources associated with the CodeNEXT plan. No plans or budgets for the road, parking, sidewalk, mass transit, school, fire, police, trash, and other city services that new residents will need.
4. The density increase is dramatic. Developers will even get a "density bonus" for maxing out lots. On my street, where many homes sit on two lots, a developer could buy and knock down one house, and replace it with two duplexes and two granny flats. That's six units instead of one.
5. There's no attempt to utilize large tracts to accommodate density. Instead, it's being pushed into our neighborhoods. For example, in District 10 there's the Brackenridge Tract that might become available. Camp Mabry is a large tract in a prime spot. The Tarrytown Center sits, decaying, on prime land. Creative politicians might find a way to encourage, or force, residential and mixed-use development of these properties, without transforming our neighborhoods.
6. The so-called "Transect Zones" (see below…you're probably in one) will change our quiet residential neighborhoods into mixed-use neighborhoods with group homes next to schools next to residential next to telecommunications equipment.
7. The citywide change in parking requirements from 2 spaces per unit to 1 space per unit will push more parked cars into our neighborhood streets, especially given the higher planned densities.
8. CodeNEXT is so complex and opaque that it's impossible to see its consequences. At last night's community meeting, an architect who's on the advisory commission told us that the city hasn't even made accurate models of what an allowable structure would look like for each proposed zone. That means there's no way to definitively understand the potential impact on you and your neighbors.
9. It's happening very fast. The proposed zoning maps weren't released until April, and the comment deadline (via the comment boxes on the map) is June 7th.
10. Each council member can claim they're "just one vote," as can the mayor. They can defer to the planning commission and consultants as experts, and vote in CodeNEXT with a clean conscience.
HOW TO FIND OUT WHAT'S PROPOSED FOR YOU, IN THREE STEPS
STEP ONE
, take a few minutes and see how the new zoning might change your home, street, and neighborhood.
Start with the CodeNEXT website, where you can enter your address and see how your property is zoned now, and how it may be zoned in the future under CodeNEXT.
https://codenext.engagingplans.org/codenext-comparison-map
When you get to the page, look for the search box (it will have the words "select location" inside it) and type in your street address.
The maps labeled "Existing Zoning" and "Proposed Zoning" (the ones underneath the search box) will move to your property. Now look for the plus ("+") and minus ("-") signs in the "Existing Zoning" box, and slowly click the plus ("+") sign four times.
This will zoom the map correctly. You'll see the outline of your property, and surrounding properties. The map is color coded, and there should be label on the "Proposed Zoning " map that tells you how, as of right now, the city is proposing to rezone your property.
You might see a word like "LMDR," or something like "T3NE.WL," or something else entirely.
Note the comment boxes below the legend. Don't comment yet. Commenting is step three. Please see step two first, because you will be better informed and your comment will have more weight.
STEP TWO
, read about your proposed zoning category to see what can be built on your property and what your property can be used for under the new proposal.
There is no easy way to do this—the map labels are not clickable and neither are the legend labels.
So to learn more, you have to search or scroll through a 472 page section within the even-bigger proposed zoning code, which you'll find here:
https://codenext.civicomment.org/chapter-23-4-zoning-code
Type your proposed zoning code (e.g. T3NE.WL) into the search box. This will take you to the document pages that describe your proposed zoning category.
Don't pay too much attention to the nice, tree-lined-street photo illustrations. These photos do not necessarily accurately represent what sort of structure can be built, and what kind of business can be operated, in this proposed zoning code.
And, in all the illustrations I've seen, there are no cars!
Read carefully through the descriptions. It's very hard to understand, and even harder to keep your place as you scroll through. If you lose your place, erase the search box, reload the page, and enter your zoning code again.
Look for words like "duplex" and "accessory dwelling unit" -- things that might increase housing density relative to the current state of your neighborhood. Look at building heights and parking requirements, which throughout the city are dropping from 2 spaces to 1 space for each residence. The extra cars will go in the street.
If your Proposed Zoning Code starts with a "T," then you are in what's called a "transect zone." This means that the city will mostly regulate the form (size, shape, and location) of the buildings, rather than the building's use. Under the "Use Types" heading you will see a list of possible uses. Anything with a "P" will be permitted automatically.
On my street, which is currently all residential, this can include a Bed and Breakfast, Senior Housing, Short Term Rentals, Group Homes, Playgrounds, Schools, and Telecommunications.
STEP THREE
, make your comments…
Go back to the page where you entered your address. Enter your address again and look for the comment boxes below the map legend.
MAKE SOME COMMENTS! TELL THEM ANYTHING THAT'S ON YOUR MIND. THIS IS DEMOCRACY IN ACTION.
If you want to give your views some extra juice, then before you file them on the webpage, select your comment and paste it into an email.
Send the email to your two elected representatives—i.e. the mayor, and your city council rep. So for District 10, that would be:
Mayor Steve Adler -
Steve.adler@austintexas.gov
(Mayor)
Mayor Pro Tem Kathie Tovo -
kathie.tovo@austintexas.go
v (District 9)
Make sure you include your name, street address, and contact info in your email.